Dr APJ Kalam is my favorite leader and I will always salute to him for his work.
Today his death anniversary. To say this word I feel very hurt. He is the super challenging and welcome person for the India. His inspiration never will going from any generation's mind. Every generation will remember him as a missile man forever with his #Bharatratna.
For this day let's know his Quotes on success.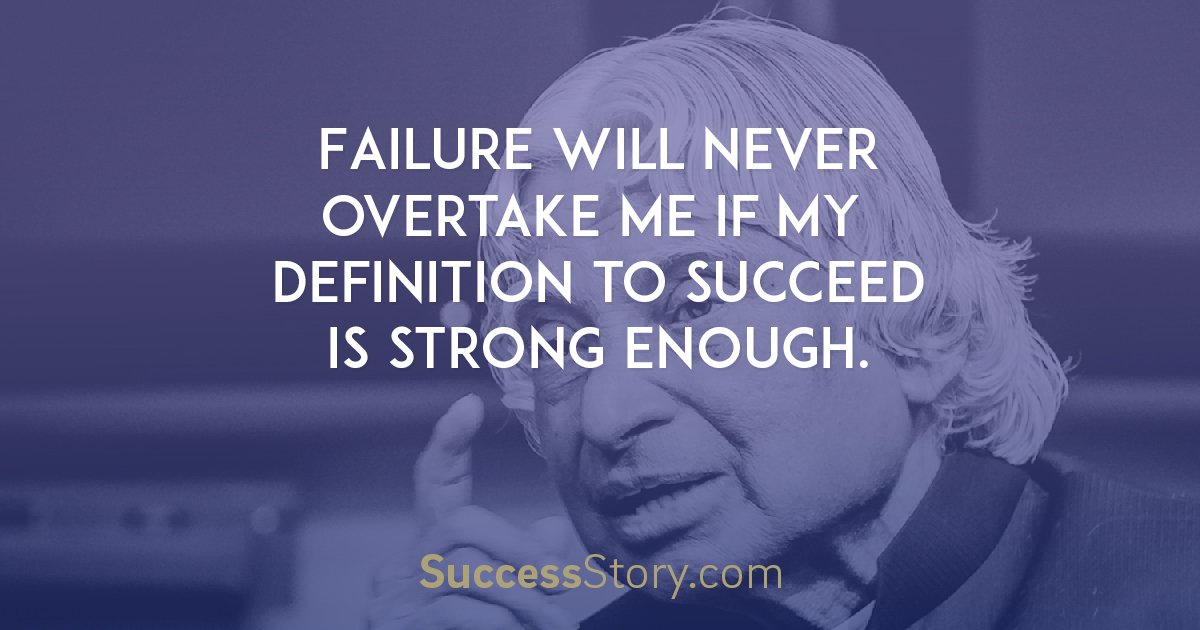 http://Quotes on success APJ Kalam/chhayaonline.com
1]"All of us do not have equal talent,But all of us have an equal opportunity to develop our talent.
2]" If you want to shine like a sun .First burn like a sun
3] "Man needs difficulty in life because they are necessary to enjoy   the success"
4]"All birds find shelter during the rain but Eagle avoids rain by flying above the clouds."
5] Don't take rest after your victory ,because if you fail in second more people are  waiting to say your first victory was just luck.
6]"Thinking should become your capital asset no matter whatever ups & downs you come across in your life"
7] "Without your involvement you can't  success-ed, Without your
involvement you can't fail"
8] If you fail never give up because  F. A. I. L. means" First attempt in learning " End is NOT THE END in fact END means "EFFORT NEVER DIES"
If you get No, As an answer remember NO means " NEW OPPORTUNITY"   
10]" If you salute your duty, you no need to salute anybody, but if you pollute your duty ,you have to salute everybody."
11]  " It is very easy to defeat someone ,but it is very hard to win someone"   
10 Points To Know Comparison – Self Made Quotes
Thanks for reading my post. If you have enjoyed it, please share, like and comment on it.
Follow me here https://twitter.com/chhaya668
For any type of collaboration please contact me here chhaya668@gmail.com
https://amzn.clnk.in/caN/chhayaonline.com Let's try to buy any product from this link.
Keyword : Quotes on success- APJ Kalam